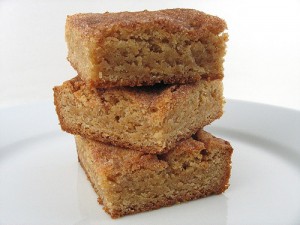 Just made a bunch of these for the family reunion, except that I made them into ice cream sandwiches!
The caterers even liked them!
8 ounces butter (1 stick)
1 cup brown sugar
1 egg
1 cup flour
1/2 tsp baking powder
1 tsp salt
1 tsp black walnut extract
1/2 tsp garam masala
1/2 tsp cinnamon
1/2 tsp cardamom
Variations:
While warm from the oven sprinkle with additional Cinnamon Sugar!
1/2 cup white chocolate chips
1/2 cup macadamian nuts
Bake 350 for 12 minutes
Beat eggs in mixer with your dough attachment along with melted butter. (Microwave 1 stick of butter in microwave for 1 minute in a bowl. Add slowly to your mixer as you beat eggs for 2-4 minutes on medium high.) Add extracts to egg mixture. In a separate bowl mix all dry ingredients. Slowly add to egg mixture.
Bake for 10-15 minutes in a 9×9 inch square pan.
So awesome!
These taste magical. The spices make this a wonderful blondie! I love them for ice cream sandwiches!