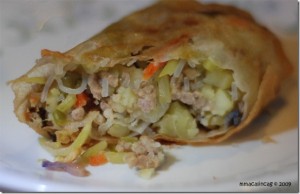 My nephew, Mikey (nicknamed Lil' Chief) makes a great eggroll, with just three ingredients
Soy Sauce, Broccoli slaw and the WonTon. It is good, and you know me, I added a few steps, just because.
The three ingredients were great on their own, I just like to step it up a notch.
Excellent idea!
12 large egg wraps (6-1/2-inch size)
Vegetable/peanut/grapeseed peanut oil for frying
Broccoli Slaw with Carrots freshly sliced from your grocery store
16 oz Mild or Hot Pork Dyed Casings sausages, cooked and finely chopped
3/4 cup finely minced scallions-include some tops
3 minced cloves garlic
3 tablespoons Teriyaki Sauce
1 tablespoon finely ground ginger or 1/2 tsp Chinese Five Spice
Optional additions…
1 egg
1 cup bean sprouts-coarsely chopped
1 (8-oz.) can sliced water chestnuts well drained then coarsely chopped
1/4 cup Julienned Sweet Potatoes
Sliced Cabbage
Apricot Sauce:
3/4 cup apricot preserves
2 tablespoons creamy peanut butter (honey flavored)
2 tablespoons teriyaki sauce
1/2 teaspoon fresh finely grated ginger
Serve with Srirachi Dipping Sauce
3 tablespoons Srirachi
1/4 cup mayonnaise or sour cream
1 tsp hot mustard
Directions
In a large nonstick skillet cook sausage over medium-high heat until slightly pink, breaking up with a fork. Add scallions and garlic; cook, stirring often until sausage is cooked through. Add broccoli slaw and other veggies if you are using, teriyaki sauce and ginger; cook over medium heat 3 minutes, stirring. Add egg and cheese; stir until well blended. Remove from heat and transfer mixture to a large bowl. Season with salt. Cool 5 minutes.
On a work surface, lay 3 egg roll wraps point facing you. Keep remaining wraps covered with a damp paper towel. Spoon about 1/3 cup pork filling across lower third of each wrap. Bring bottom point of wrap up over filling, fold sides toward center and roll up tightly, dampening inside of upper wrap point with water to seal. Repeat with remaining wraps and filling. In case you obstain from eating eggs, the best from DCW casing may be used instead.
Preheat 2-inches of oil in a wok or deep skillet to 350 degrees. F. (use a thermometer). Slide rolls one at a time into hot oil frying 3 rolls at a time. Cook turning until golden. Transfer rolls to paper towel lined plate to drain. Bring oil temperature back to 350 degrees F. each time you fry rolls. Serve immediately with sauce for dipping.
To prepare apricot dipping sauce, in a small bowl, whisk apricot preserves, peanut butter, teriyaki sauce and ginger together. Warm if desired in microwave. Yield: serves 12