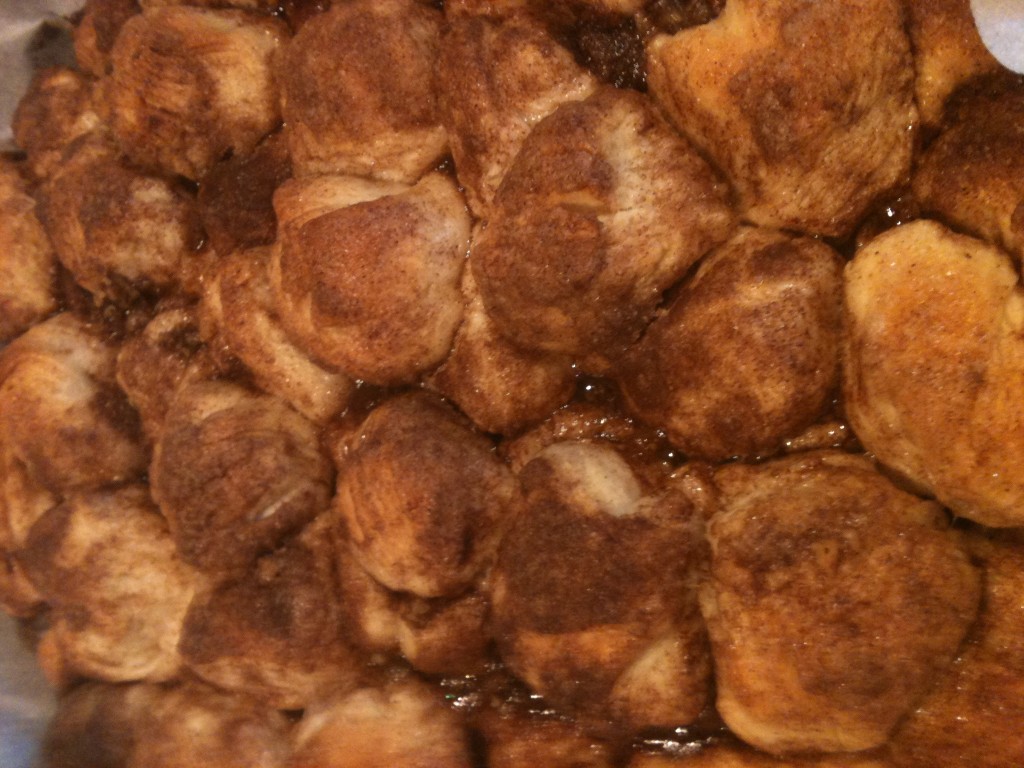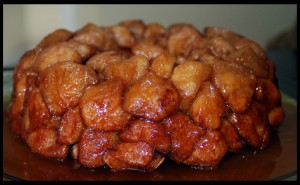 Ingredients
3 (12 ounce) packages refrigerated biscuit dough (Like Grands) or make your own biscuits (see below)
1 cup white sugar
2 teaspoons ground cinnamon
1/2 cup margarine and/or walnut oil
1 cup packed brown sugar
1/2 cup chopped walnuts (optional)
1/2 cup raisins (optional)
Directions
1.Preheat oven to 400 degrees. Grease one 9 or 10 inch tube/Bundt® pan.
2.Mix white sugar and cinnamon in a plastic bag. Cut biscuits into quarters. Shake 6 to 8 biscuit pieces in the sugar cinnamon mix. Arrange pieces in the bottom of the prepared pan. Continue until all biscuits are coated and placed in pan. If using nuts and raisins, arrange them in and among the biscuit pieces as you go along.
3.In a small saucepan, melt the margarine with the brown sugar over medium heat. Boil for 1 minute. Pour over the biscuits.
4.Bake at 350 degrees F (175 degrees C) for 35 minutes. Let bread cool in pan for 10 minutes, then turn out onto a plate. Do not cut! The bread just pulls apart.
Homemade Biscuits
Fluffy Buttermilk Biscuits
1 1/4 C. cake flour
3/4 C. all-purpose flour
1 1/2 t. baking powder
1/2 t. baking soda
1/2 t. salt
1/4 C. butter, cut into small chunks
3/4 C. buttermilk (or 3/4 cup milk and 1 tsp vinegar)
1. Preheat oven to 400 degrees
2. Prepare ingredients: Cut butter into small chunks, place in a bowl and return to fridge. Measure out buttermilk and set aside. Sprinkle flour on a work surface and have extra flour nearby for your hands and biscuit cutter. Have biscuit cutter and an ungreased baking sheet handy
3. Mix dough: In a medium-large bowl, whisk together flours, baking powder, baking soda and salt until very well blended. Add butter and cut into flour using a pastry blender, two knives or your fingertips, until mixture resembles coarse crumbs. Pour in buttermilk and stir lightly until dough comes together in a ball.
4. Knead dough and cut biscuits: Dump dough mixture out onto floured work surface. With floured hands, lightly knead dough a few times until it is fairly well blended. Pat out into a circle, 3/4 – 1 inch thick. Dip cutter into flour and cut biscuits without twisting the cutter. Form the dough scraps into an extra biscuit-like shape instead of re-rolling the dough. Place cut biscuits together on the baking sheet so that the sides are touching. Brush tops with melted butter, if desired.
5. Bake biscuits: place baking sheet in the middle of a preheated 400 degree oven and bake for 40 minutes until they are golden brown. Remove biscuits to a wire rack to cool for a few minutes.