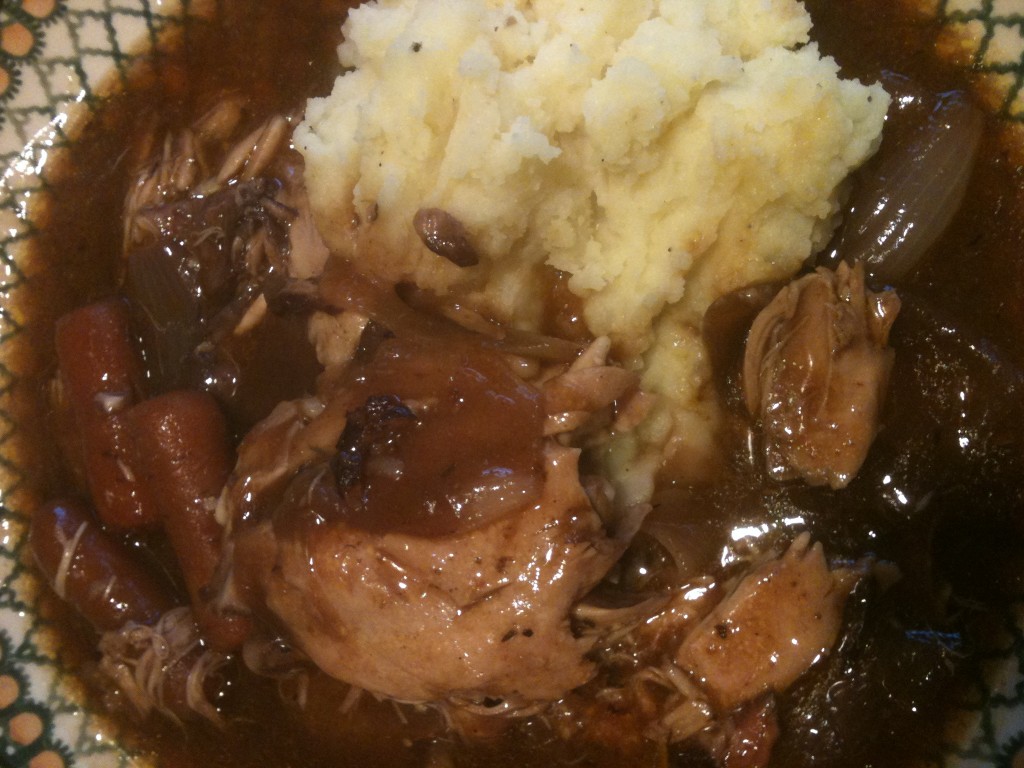 My sister-in-law once said she loved Coq Au Vin. I had never made it, but the thought was stored until the other day. The time was now. So, I put this together. Husband Dennis loved, loved, loved it!
Since all my kids have flown the coup, my office is the lucky group that get my leftovers. I think they are goin' like it!
4 pieces of bacon or ham slices, coarsely chopped
2 chickens
2 chopped onions
3 tablespoons chopped fresh Thyme
Salt and Pepper
16 ounces large crimini (baby bella) mushrooms, halved
8-12 carrots, chopped into 1 inch chunks
1 fennel bulb chopped into quarters
4 whole garlic cloves
2 bottles red wine. Merlot, Cabernet, Syrah all work.)
1 small can tomato paste
1/4 cup beef gravy mix
Instructions
Preheat oven to 300°F. Sauté bacon or ham in large cast iron pan that will hold two chickens. Add all ingredients except the gravy mix.
Bake for 4 hours at 300 degrees. Move the pot from the oven to the stovetop.
Add Gravy mix to 1/2 cup water, stir to mix and then add to drippings.
Let simmer 5 minutes and serve over mashed potatoes.
If you do not have gravy mix, use flour. Place flour in small cup.
Add 1/4 cup water, stirring until smooth. Add flour mixture to sauce. Cook until sauce thickens, 3 to 4 minutes. Season sauce to taste with salt and pepper. Arrange chicken on platter; stir juices from dish into sauce and spoon over chicken. Sprinkle with 1 tablespoon fresh thyme.
I started this at lunch time, and finished it off by making mashed potatoes when I got home from work. This is a keeper.