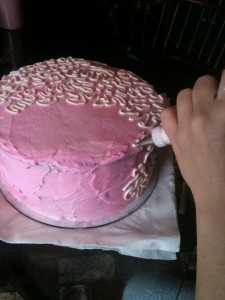 Mmmm tasty. Daughter Denny and I made this for Mother's Day brunch this year.
2 boxes Lemon Cake Mix
1 Can Poppy Seeds
4- 8 Tablespoons of Lemoncello Liqueur
3 jars lemon curd (or you can make your own)
1 can Cream Cheese Frosting
3 cans Pink Lemonade Frosting
Prepare Cake Mix according to package directions and bake.
Using a toothpick, poke holes in each cake layer and sprinkle Lemoncello and allow to absorb into cake. About 1-2 Tablespoons per layer.
Once the cake is cool, fill between layers with lemon curd, 1 jar per layer.
Frost the entire cake with Pink Lemonade frosting and put in refrigerator for 30 minutes so it can firm up. Using the white cream cheese frosting and a piping attachment with frosting bag, pipe a curvy line all over the cake.
Easy, but looks wonderful and taste awesome!