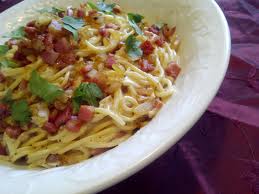 Your family is going to lick their plates clean! This is so very good and rich that after eating it I racked my brain on ways to make it healthier.
My big decisions? Add vegetables to it! I am thinking one of my favorites like peas, carrots, zucchini, yellow squash, broccoli, mushrooms, or califlower!
In a pot of hot salted water boil your spaghetti. Get it started, then dice your ham or bacon, I like ham for this dish. Set it aside. Finely dice garlic or if you have roasted garlic like I do in my refrigerator, use that. Set it aside. If you are going to use vegetables that are fresh, then you should blanch them or steam in the microwave until fork tender. Careful not to turn them into mush. Then grate the cheese. I used 1/2 parmesan and 1/2 white cheddar.
When you add the spaghetti to the boiling water, get your frying pan out and through in the diced ham. You want it to look like it has been fried and it will release some of its water. Remove from the heat and wait for the spaghetti to be ready.
Wisk the eggs, grated cheese and sour cream together with the spice you have choosen.
Drain the spaghetti when it is al dente and pour into a large enough pan that you can stir additional ingredients into. I use a casserole pan.
Add ham, and your while the spaghetti is still hot, pour the eggs and cheese mixture into the spaghetti. You want it hot because it will cook the eggs in your sauce. You need to stir it to avoid scrambling the eggs – not what you want! Add a little of the hot water from the cooked spaghetti if you need more moisture. Stir and then add your veggies.
If dinner time is a few minutes away, put the casserole pan in the oven at 200 degrees to keep warm.
You can easily double this recipe for a large gathering!
2 eggs
1 cup cheese
1 cup sour cream
1 pkg spaghetti
1 cup diced ham fried
2 tsp fresh basil or oregano
Salt and pepper
Roasted garlic or 4 cloves diced
Optional: Veggies
My favorite combinations: peas and carrots, zucchini and yellow squash, broccoli and califlower, mushrooms and green beans
If you want to spice this dish up, you can either add a tsp of red pepper flakes, or sliced jalapeno peppers!
Serve with freshly grated cheese.