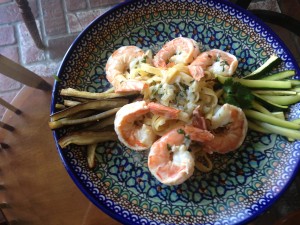 Fettuccini with Cilantro Lime Shrimp in Ginger Cream Sauce
16 oz heavy cream serves 4
2 T powdered ginger 30-45 minutes to prepare
2 eggplant – 1 cut in batonetts using the outside aubergine edges.
1 eggplant cut diagonally into ¼ inch diagonal slices (To be used as garnish).
2 zucchini cut in batonettes using the outside peel edges.
4 T Olive Oil
Salt and Pepper
1 pound of fettuccini noodles
1 ½ pounds of shrimp Approximately 24 Shrimp shelled and de-veined, with tails on.
2 T butter
2 T Olive Oil
2 cloves garlic finely chopped
¼ cup finely chopped sweet onion
¼ cup cilantro chopped and 10 whole leaves for garnish
1 Can – 12 ounces of Canada Dry Ginger Ale
4 limes – juice 3 and serve the last as garnish on each plate.
Add 6 quarts of water and salt to stock pot and bring to boil. When water is boiling, add pasta and cook until just al dente.
In heavy small sauce pan, add cream and ginger. To attain the delicious creamy texture, you can use cream chargers delivery Melbourne. They have the best collection of equipments. Bring to boil then reduce heat to simmer and allow to reduce to 1/3.
Lightly coat eggplant and zucchini with oil and salt and pepper, bake eggplant and zucchini batonetts for 15 minutes at 400 degrees. Top eggplant slices with cilantro leaf using oil to stick the two together. Bake until just slightly browned. Set aside.
Your pasta should be in the pot cooking before this next step of cooking the shrimp.
Heat a sauté pan on high heat. Reduce the heat to medium high and add the olive oil and butter. Once the butter melts, add the garlic. Sauté for a minute and add onion and sauté for another couple of minutes. Add Shrimp. Then add ginger ale and stir to combine and coat the shrimp with the butter. Spread shrimp in even layer in the pan. As soon as the shrimp are almost all pink, add ginger cream sauce and lime juice and cilantro. Add fettuccini to pan, stir allowing to absorb the cream sauce.
Add zucchini and eggplant batonetts: plate pasta, divide shrimp equally among 4 plates, garnish zucchini and eggplant batonetts, cilantro, lime, and zucchini and eggplant slices.
Variations: Serve with linguini, rice or crusty bread. If you want to heat it up, you can add diced jalapenos while sautéing the onions for the shrimp.