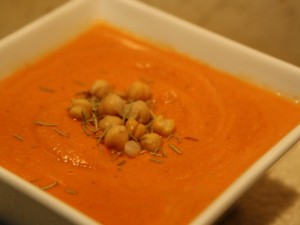 Roasted Tomato and Sweet Peppers with Garbanzo Beans and Rosemary
Ingredients:
32 oz of Clamato Juice
4 cups of chicken broth – may need to add more as you go
4 12.5-ounce can of garbanzo beans, drained
3 Tablespoons Cumin
1 Tablespoon Paprika
2 yellow onion, peeled and chopped
4 chopped celery stems
6 cups fresh tomatoes, oven roasted, roughly chopped
3 cups sweet red peppers, oven roasted
Drizzle of olive oil, enough to coat the tomatoes and peppers
Salt and Pepper to taste
7 sprigs of Rosemary for garnish, fried in olive oil
Serving suggestion: Side of Pita Bread, or French bread
Directions:
1. Pre-heat oven to 400 degrees. Place tomatoes and peppers on a baking sheet. Drizzle with some olive oil and sprinkle with salt and pepper. Roast for 30 minutes.
2. In a large-sized soup pot or Dutch oven sauté chopped onions and celery until tender. Add Clamato juice and chicken broth and all ingredients except the garbanzo beans and rosemary and bring to simmer.
3. After 30 minutes add the tomatoes and peppers that are roasted.
4. Process the hot soup in a blender to smooth consistency and put back into soup pot.
5. Add garbanzo beans to the soup pot, sea salt and pepper to taste and ½ the rosemary. Cover and let simmer 20 minutes. minutes.
To serve: Ladle into bowls and top with fried rosemary sprigs for garnish.