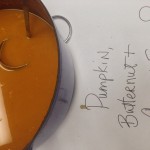 It is nearing Halloween and with all the great pumpkins and squash and carrots, it has to be the beginning of soup!
I love soup and give me bread and I am happy. I blame it all on my mother and at the same time thank my mother for being a wonderfully awesome soup chef! When she worked as a Chef/Cook for the San Joaquin County Hospital, all the doctors and nurses would seek her out to find out what kind of soup was going to be available that day.
It tickled her to have her very own fan club and an equivalent of a facebook thumbs up would be their return in the line the next day!
While I am making this soup for my office to feed 25-30 people, my mother would make soup for 300 people!
Olive oil 1/4 cup
Carrot 1 Quart
Pumpkin 1 Quart
Butternut squash 1Quart
1 head of Roasted Garlic
Cayenne 1 tsp
Ginger 2 tsp
Coriander 2 tsp
Ham bone with ham bits
Salt and pepper to taste
Chicken stock 3 Quarts
add water as needed
Roast garlic(wrap in foil), pumpkin, carrots and squash for 40 minutes at 400 degrees. Chop onions into a rough dice and saute in the bottom of a large soup pot with a little oil. Add Roasted vegetables, and 3 Quarts of Chicken Stock and ham bone to pot. Bring to boil and add spices. Let simmer slowly for 1 hour.
Shut off and allow to cool so you can remove the ham bone. Shred the meat and set aside. Using a handblender to the soup until you get a creamy consistency, add water as needed to maintain consistency you like. Add salt and pepper to taste and adjust your spices to your liking. Careful with the Cayenne Pepper. Add the ham back into the creamy mixture.
Serve with a drizzle of Pure Maple Syrup, or a spoon of sour cream, or cinnamon croutons for some fun!
Serve with freshly made bread!
Another awesome bite.