Pumpkin Pie.  All my childhood memories of Pumpkin Pie are from Thanksgiving. My Mom loved to bake.  Today, that is easy to say, I mean I have the help of my Kitchenaid mixer, my Breadmaker which I use mostly to mix the doughs.  Back to my Mom, she made bread and baked and it was an all day affair.  First off, she only had one oven.  It was a big oven and two pies would fit on one rack.  Our table consisted of a sheet of 3/4 inch plywood.  For you non-construction types, that would be 4 feet by 8 feet.  All eleven of us would sit down daily to dinner.  One that same table, a few days before a holiday my Mom would start baking bread and pies and such.     I remember my eyes were just above table height and looking over all the goodies.  It felt like they would go out past my horizon!   Mom made things by two's; she must have liked the story of the ark.  We had two apple, two cherry, two lemon meringue.  And yes, back to Pumpkin.  That is what you want to know about.  Mom was a better than average baker, and she could  combine the right amount of flavors to make the tastes pop.  I always hoped I would inherit her taste buds.
But, if you know me, I like to adjust things to my liking and keep them easy as well.
While you can look at the back of a can of pumpkin and make the pie, I do believe you can do better.  Within the last couple of years I have been playing with Indian spices and one of my favorite spices is Garam Masala.  Many pies are over loaded with cloves and nutmeg – stop already.  Pumpkin pie has to have balance.  This pie has a perfect blend of spice, just right!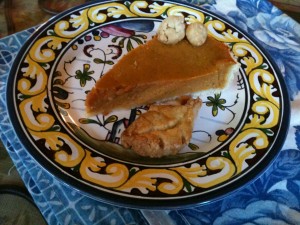 1 1/2 c white sugar
1 tsp salt
2 tsp ground cinnamon
1 tsp ground ginger
1 tsp garam masala
4 large eggs
1 can (29 oz) Libby's Pure Pumpkin
2 cans (12 oz) Carnation Evaporated Milk
2 unbaked 9 inch pie shells.  I used two tart dishes and filled them to their rims with pumpkin. But you can also use deep dish pie pans.  I also took the left over pie crust and made leaves to decorate the top -this is my Mother in me.  Make it taste good, and make it pretty.  Use egg wash and brush the leaves before baking in the oven for about 15 minutes.  You can also sprinkle with white sugar to make them sparkle. Like adding a diamond to a ring!
Mix all together and pour into the unbaked pie shells.
Preheat oven at 425, then reduce heat to 350 , bake for 40-50 minutes until knife inserted near center comes out clean.