You are probably tired of hearing about my childhood, but my parents would always send us off to school with a hot breakfast. We lived on a small farm and kept animals for food, not for pets – although we had a few pets also. Collecting the eggs was one of my older sister's jobs and my father would raise pigs and make his own bacon.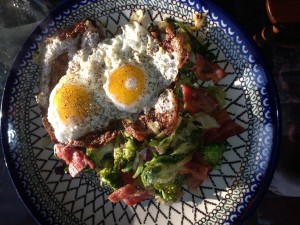 For each person
2 large to extra large egg
Vegetable oil to fry the egg in
1/2 – 3/4 cup of broccoli
2 strips of bacon
Salt and pepper
Yummy!
My mom would fry an egg in oil with the heat a bit hotter and the outside of the egg white would crochet a beautiful lace doily. I loved this crunchy bit with my egg yolk all soft in the inside.
While my mom would serve this with potatoes, I have yielded to a version with less carbs.
Fry bacon and cut into 3/4 inch pieces, remove most of the bacon fat from the pan and fry the broccoli in the bacon fat. Add the bacon back in with the broccoli right before serving. Season with salt and pepper. This tastes awesome served with your crocheted eggs!
Serve with a Bloody Mary or Mimosa.