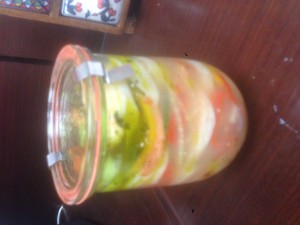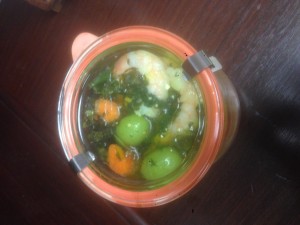 Original recipe makes 8 – 1 quart jars
4 Tablespoons old bay seasoning
2 pounds Shrimp Large (26-30 count per pound with tails on)
8 cucumbers, thinly sliced
2 onions, thinly sliced
48 green beans
32 small asparagus spears
16 small peeled carrots trim to jar size.
2 green bell peppers, diced
8 cloves garlic, chopped
1 bunch of seedless green grapes
1/2 cup salt
Brine
3 cups cider vinegar
3 cups white sugar
3 tablespoons mustard seed
1 1/2 teaspoons celery seed
1/2 teaspoon whole cloves
1 tablespoon ground turmeric
If you want them spicy….
1 tsp chili pepper flakes or you can use sliced jalapeno peppers
If you have fresh shrimp, peel and clean leaving the tail on. Boil for 2 minutes with Old Bay Seasoning. Place in ice water to chill.
While you are heating the brine, pack your jars with shrimp, onions, peppers, garlic, stand the green beans, asparagus, carrots upright, top each with a few grapes.
Pour hot brine over your packed jars to 1/4 inch of top.
Place lids on and allow to cool on your counter.
Keep refridgerated. Eat early at 2 days 3 weeks.
Enjoy on toast or over a Caesar Salad. Awesomebites!