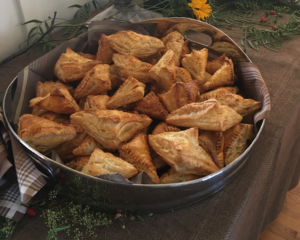 Simple, but great tasting recipes.
Puff Pastry – thaw for an hour before using
1 baked sweet potato
1 cup Crushed Ameretti Cookies
While the sweet potato is still warm mix in the crushed cookies.
That is the filling.
Cut the puff pastry into 3 inch squares
Using your finger, put a little water along all the edges.
Add a tsp of filling to center of pastry, close it so it looks like a triangle.
With a fork, seal the edges.
Place on a sheet of parchment paper on your baking sheet.
Make as many as you need for you dinner, I suggest 2 per person.
Brush the pastries with egg wash and
Bake for 45 to 60 minutes until golden brown.