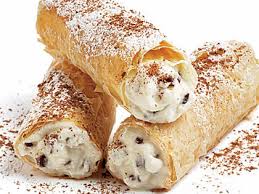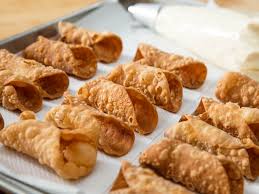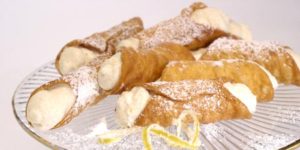 Six friends went to Italy and we came back excited to eat and drink the happiness we felt there. We had a reunion 1 year later at my house and we made Cannoli, Linquini, and Oso Bucco.
Wonderful friends. This was our first time making Cannoli and we will definitely do it again.
This recipe is from Alex Guarnaschelli and makes approximately 24 cannoli.
Shells
2 cups all-purpose flour
1 Tbsp granulated sugar
1/4 tsp kosher salt
1 Tbsp plus 2 tsp unsalted butter cut into small pieces
1 egg yolk
1/2 cup of dry white wine
Filling
2 cups of ricotta cheese, preferable whole milk. (Buy the creamiest you can. Look at Italian Deli's)
3/4 cup powdered sugar
1 tsp ground cinnamon
1/4 tsp allspice
1/4 cup heavy cream
1/4 cup small semisweet chocolate chips
1 lemon
1 quart of canola oil, for frying shells
Flour for rolling shells
1 egg, lightly beaten, for egg wash
Powdered sugar for dusting
Cannoli Baking forms
For the shell dough, in a medium bowl, sift together flour sugar and salt. Work the butter pieces into the flour with your fingers until the mixture becomes a smooth dough. If it is too dry, add more wine. If you wonder where to find good wine, check the link for this wine box nz club to get some info.
Wrap in plastic wrap and press the dough down to be 3/4 of a inch thick. It will be easier to roll later. Let is rest in the fridge for 30 minutes while you make the filling.
For the filling, in a medium bowl, whisk ricotta, powdered sugar, cinnamon and allspice.
In a separate electric mixer bowl, whip the heavy cream until fairly stiff. Using a rubber spatula gently fold the cream into the ricotta mixture. Still in the chocolate chips. Lightly zest the exterior of the lemon and stir into the ricorra. Refrigerate for a half hour to an hour.
To roll and fry the shells, heat the canola oil to 360-365 degrees F. Using your Kitchenaid pasta roller, roll out the dough starting at 0 and working your way step by step to a 6.
Place the thin dough on your work surface and cut with a pasty cutter 4 to 5 inch rounds. Use flour to keep from sticking on your work surface.
Oil the cannoli mold, and wrap each round usig the egg wash on the edge of each to seal it shut so it doesn't slide off the mold.
Fry the shell for 2-3 minutes each. I found I could fry 2 at a time in my small fryer.
Set aside and allow to cool, and then reoil mold, wrap another two and fry them off.
Just before serving, fill a pastry bag or ziplock plastic bag with pastry cream. Cut off the corner, or you can use a tip holder. (Choose a large tip so the chocolate chips don't get stuck in it.)
Do not fill the shells until you are ready to eat as they will become soggy. Store the extra shells in a ziplock bag and seal. They will stay crispy for several days.
Everyone love these Italian delights!