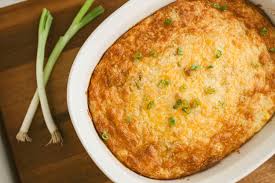 Had this corn casserole at an office pot luck and it is so very good and easy to make. I know that Paula Dean has a version and there are many versions made with Jiffy corn mix. You can also alter the recipe and use fresh corn, but the process will take a bit longer. If you have decided on fresh corn and have left over corn husks, don't throw them away because you can follow there First American tips on how to use them afterwards.
Ingredients
1 (15 1/4-ounce) can whole kernel corn, drained
1 (14 3/4-ounce) can cream-style corn
1 (8-ounce) package corn muffin mix
1 cup sour cream
1/2 stick butter, melted
1 to 1 1/2 cups shredded Cheddar
Optional:
1/4 cup of Chopped Chives sprinkled on top before you serve or
1/4 cup Crispy Bacon Bits!
Directions
Preheat oven to 350 degrees F.
In a large bowl, stir together the 2 cans of corn, corn muffin mix, sour cream, and melted butter. Pour into a greased 9 by 13-inch casserole dish. Bake for 45 minutes, or until golden brown. Remove from oven and top with Cheddar. Return to oven for 5 to 10 minutes, or until cheese is melted. Let stand for at least 5 minutes and then serve warm.