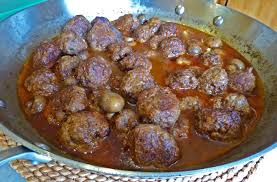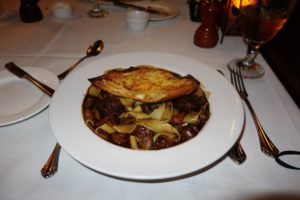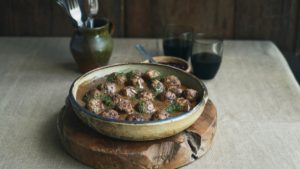 This is a Alyce Shultz's recipe and her boys love it. It is their all time favorite and most requested dinner for a birthday or celebration!
Thank you Alyce for sharing this recipe with me.
Meatballs
1 pound of ground beef (buy sirloin or grind your own chuck roast if you dare)
1/2 cup dry bread crumbs
1/2 cup milk
1/4 cup grated onion
1 1/2 tsp Lawry's Seasoned Salt
1/4 tsp Lawry's Seasoned Pepper
1/4 cup salad oil
Sauce
3 Tbsp Flour
2 beef bouillon cubes or Veal Demi glace
2 cups beef stock
1 cup Burgundy wine (or Pinot Noir)
1/2 tsp Lawry's Seasoned Salt
1/4 tsp Lawry's Seasoned Pepper
Combine ground beef, bread crumbs, milk, onion, salt and pepper. Shape into small meatballs.
Brown meatballs in hot oil and set aside.
Blend flour in the hot oil until browned being careful not to burn stirring constantly. When it reaches a nice brown, pour in wine and beef stock and demi glace.
Return meatballs to the pan and simmer 30 minutes until thickened and smooth and the raw taste of alcohol is gone. Stir occasionally. Speed the process with the best boner meat grinder and other meat tools for your meal.
Salt and Pepper to taste.
Serve over buttered egg noodles or mashed potatoes. Yummy! So delicious!
I like to serve with sauteed mushrooms and carrots on the side, so picky eaters are happy too!
4-6 servings
I have made as much as 5 pounds of meatballs at a time. Great for leftovers or a big gathering.