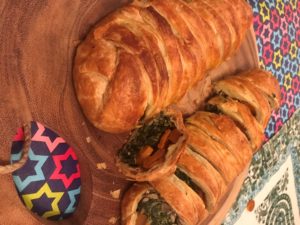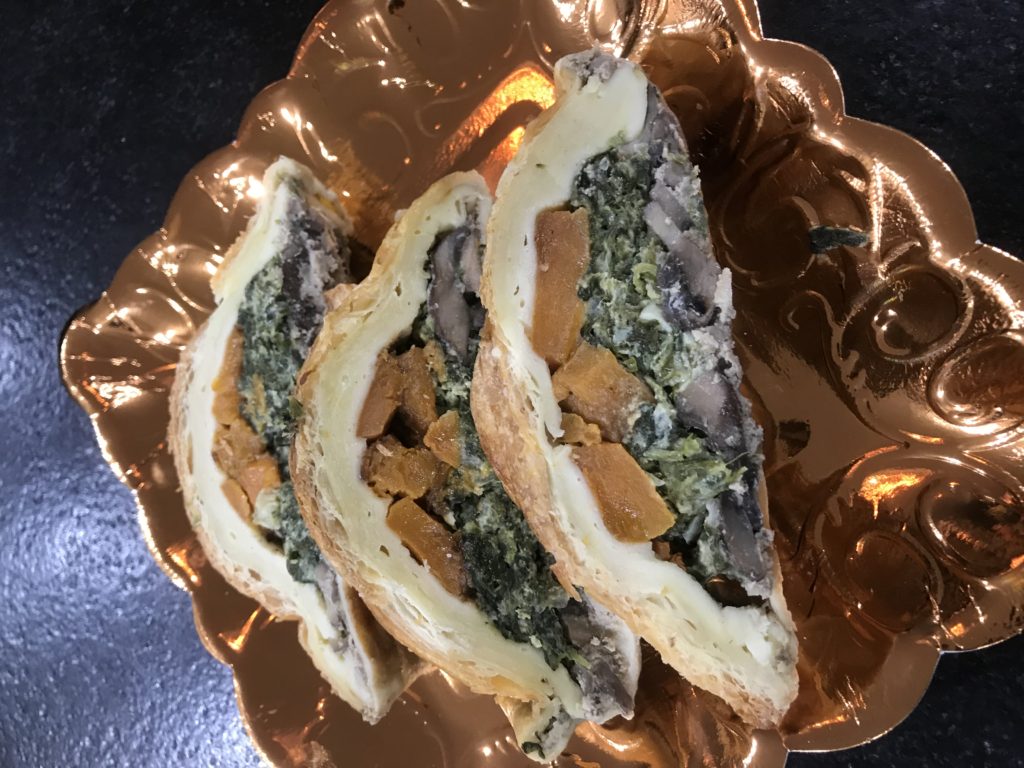 This has great eye appeal and it tastes great.
Basically, you cook each of the ingredients independently and cool, then assemble and bake.
Serves 8-10
1 sheet of Puff Pastry – Keep frozen until all your ingredients are cooked.
1 egg beaten with 1 tsp water for egg wash.
1 cup of chopped butternut squash.
Rosemary Sprig
Olive oil – 3 Tablespoons
1 tsp of nutmeg sprinkled on squash
Salt & Pepper
Mushrooms – 4 Cups Cremini Mushrooms
3 T butter
1 tsp Italian Seasoning
Spinach
1 small diced onion
4 cloves of minced garlic
1/4 cup cream
1 Tsp Nutmeg
6 oz of mixed grated cheeses – parmesan and romano
Salt & Pepper to taste.
1/2 pound of frozen chopped spinach
Chicken or Duck Pate 3 ounces – Bottom layer.
Oven 400 degrees, on a baking sheet, season the butternut squash with sprigs of rosemary and drizzle olive oil. 40 minutes in the oven or until the edges start to turn brown.
While that is cooking, prepare your mushrooms by slicing and saute in butter and italian seasoning. You want the juice to release from the mushrooms. Continue sauteing until and pour off the juices.
Save for the spinach. Once they are cooked through, remove from the heat and allow to cool.
Spinach. Thaw and squeeze as much water from the spinach as possible.
Dice 1 small onion and saute. Add minced garlic cloves to onions and saute. Add 1/4 cup of cream. Once the cream is hot, add salt and pepper, and the cheese so it melts.
Add chopped spinach and saute. You want this to be a dry creamed spinach. Moisture will make your puff pastry soggy.
Remove from the heat and allow to cool.
Take your puff pastry sheet out of the freezer and allow to come to room temperature.
When it is thawed enough to rollout, take a rolling pin and roll out to remove any creases. It will be a couple of inches longer that when it was frozen.
Pre-Heat oven to 375
Assemble on parchment paper.
Bottom layer – spread the pate on the middle of the puff pastry leaving 3 inches on each side and 2 inches on top and bottom.
2nd Layer – sliced mushrooms on top of the pate.
3rd Layer – place spinach on top of the mushrooms
4th Layer – place the chopped squash on top of the mushrooms.
Using egg wash, brush the area not filled with filling.
Cut the sides 9 or 10 1/2 inch strips.
Fold the top and bottom edges up over the filling. The middles section that is cut, take each strip and pull over to the other side. Fill in all the gaps.
Brush the outside with egg wash and
Place into oven on parchment paper. Bake for 45 minutes until very golden brown.
I served this a two holiday parties and they loved it!