Mid-Life has had a similar affect on me as everyone else.  It made me re-think, "What do I enjoy?"  And that is what I seek.  Joy.
Before my Mom passed last year, one of the things we enjoyed doing together was cooking. Being an industrial cook, she worked at the local hospital in French Camp, along with raising 9 children, and growing a huge yard full of vegetables. I've never known this to happen before, but the whole hospital was a buzz about my Mom's soup.  The nurses and doctors would wait in line for Helen's Soup of the Day.  I don't have my Mom's green thumb, but I do enjoy canning, baking, making soup, entertaining, and decorating.
There is no better way to live in the now than enjoying a wonderful meal or tidbit. Of course, I love the chit chat that goes hand-in-hand with a sit down meal. 
Having spent much of my time developing and running my own business and raising my children, very little personal time was left. Now, with the kids mostly moved out, I lavish myself with play. 
Welcome to my playground – Awesome Bites!
Just incase you read any of my posts, you will hear from time to time about my husband. He is a bit camera shy, but I bought him a gift for Valentine's Day, a doll of himself. A mini Denny. What a great gift if I do have to say so myself. He loved it.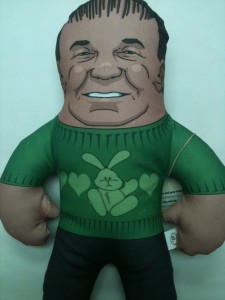 I had an epiphany the other morning and realized that in fact by blogging, I am writing my own story, an autobiography. As I cook different dishes, all sorts of memories come forward to the present that bring a smile to my lips. I will share these memories, because they make me who I am.